Dry Needling or Trigger Point Dry Needling (TDN) is an effective therapy to treat muscular tension and spasm, which commonly accompanies conditions such as arthritis, nerve irritation, muscular strain, ligament sprains and herniated discs.  It is called "Dry" Needling because there is no solution injected as with a hypodermic needle during a flu shot.  With Dry Needling, the needle itself and the effects it produces within the tissue is the treatment.
When an injury occurs from repetitive use or acute trauma, inflammation will be produced from the damaged tissues.  The damaged tissues will also go into a protective tension state or contracture to guard against further damage from utilizing the injured tissue.  This contracture and inflammation inhibit microcirculation, which limits both the oxygen rich blood reaching the injury and the waste products leaving the injury.  The injury site becomes hypoxic (decreased in oxygen) which stimulates the body to produce fibroblasts, a cell that produces fibrosis or scar tissue.  This fibrosis and scarring builds up around the muscles and tissues limiting the tissues ability to fully function (lengthen/shorten) and can also cause compression and irritation of nerves (such as carpal tunnel syndrome) – all of which inevitably lead to biomechanical disturbances in gait and function.
TDN uses a small, solid filament needle, which is inserted in a contracted painful knotted muscle (trigger point) to create a local twitch reflex.  This is both diagnostic and therapeutic as it is the first step in breaking the pain cycle as research shows will decrease muscle contraction, reduce chemical irritation, improve flexibility and decrease pain.
What types of Conditions Can TDN Assist?
Neck/Back Pain
Shoulder Pain
Tennis/Golfers Elbow
Headaches
Hip and Gluteal Pain
Knee Pain
Achilles Tendonitis/Tendinosis
Plantar Fasciitis
Sciatica
Muscular Strains/Ligament Sprains
Athletic Performance
Is Trigger Point Dry Needling Acupuncture?
No, Trigger Point Dry Needling is based on Western medical research and principles, whereas acupuncture is based on Traditional Chinese Medicine.  The main similarity is that the same sterile, disposable solid filament needles are used.
Most patients will not even feel the needle penetrate the skin, but once it has and is advanced into the muscle, the feeling of discomfort can vary drastically from patient to patient.  Usually a healthy muscle feels very little discomfort with insertion of the needle; however, if the muscle is sensitive and shortened or has active trigger points within it, the subject may feel a sensation much like a muscle cramp — which is often referred to as a 'twitch response'.  After receiving just a couple of treatments, the vast majority of patients will report the treatment as being far less uncomfortable.
What can I do to prepare for my therapy?
Please wear loose, comfortable clothing that can be rolled up or down to access your areas of concern with the greatest ease.
What can I expect after treatment?
We are looking to get improvements even from the first visit such as increased range of motion, ease of movement and decreased pain.
Many patients report being sore after the treatment in both the area treated and the area of referred symptoms.  Typically this soreness lasts between a few hours and two days and there is occasional bruising.  Soreness may be alleviated by applying ice or heat to the area and performing specific stretches for the treated muscle.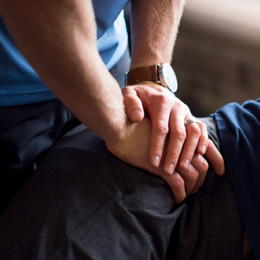 ART is a patented, state of the art soft tissue system/movement based massage technique that treats problems with muscles, tendons, ligaments, fascia and nerves.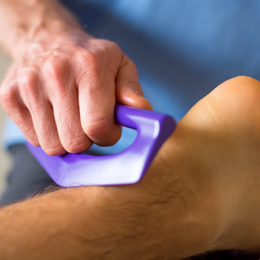 We use instruments designed to detect and treat scar tissue.  This treatment is called IASTM or Instrument Assisted Soft Tissue Mobilization.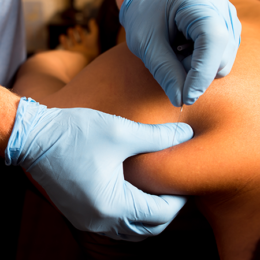 Trigger Point Dry Needling (TDN) is an effective therapy to treat muscular tension and spasm, which commonly accompanies conditions such as arthritis, nerve irritation, muscular strain, ligament sprains and herniated discs.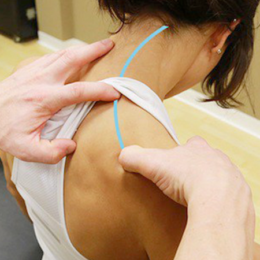 Fascial Distortion is a treatment model in which virtually all soft tissue injuries, or musculoskeletal complaints, are viewed through 1 or more of the 6 different types of alterations to the body's connective tissues.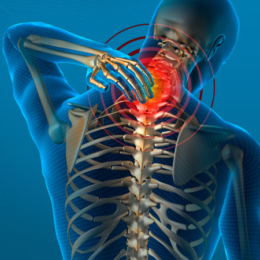 The Next Level approach to Chiropractic Care concentrates on restoring function in order to resolve symptoms.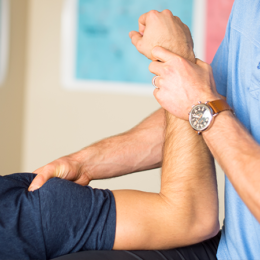 The SFMA is the movement based diagnostic system, designed to clinically assess 7 fundamental movement patterns in those with known musculoskeletal pain. The assessment provides an efficient method to systematically find the cause of symptoms, not just the source, by logically breaking down dysfunctional patterns and diagnosing their root cause as either a mobility problem or a stability/motor control problem.
3300 W Anderson Ln, Ste. 306
Austin, TX 78757
512-989-9495
info@nextleveldr.com
Monday-Thursday: 7:00am-5:00pm
Friday: 7:00am-12:00pm